James has now moved to…….
James Cobby RM
Eagle Wood Neurological Care Centre
Bretton Way, Peterborough
PE3 8DE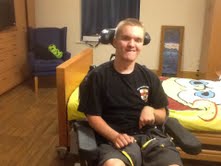 Those of you who wish to catch up on James progress whilst at Putney prior to P`boro……."Click Here"
Otherwise scroll down for current
19th August 2013
James moved to a new Specialist Neurological Care Centre on Monday 12th August 2013
His time at Putney is now over and a new step in his life starts. You can check out his P`boro location on this link…

I am sure a bunch of postcards would be extremely welcome and will help him settle in and let him know that we all wish him well for the future.
Once James has been re assessed re his personal schedules and training times I hope to find out how we can arrange to see him, on which days/times etc. Watch this space…….