What a Way to be Treated

Help Support and Get Justice for Rod… Rally your MP "Click Here for More Info"
These scars borne by Rod were not earned in Borneo or Malaya
or by Chasing Bandits thru the Ying Yang
They were caused by the NHS
A BOTCH-UP BY A NHS SURGEON AND A COVER UP BY ANOTHER
"Doctor Botch-Up" now has a private practice in London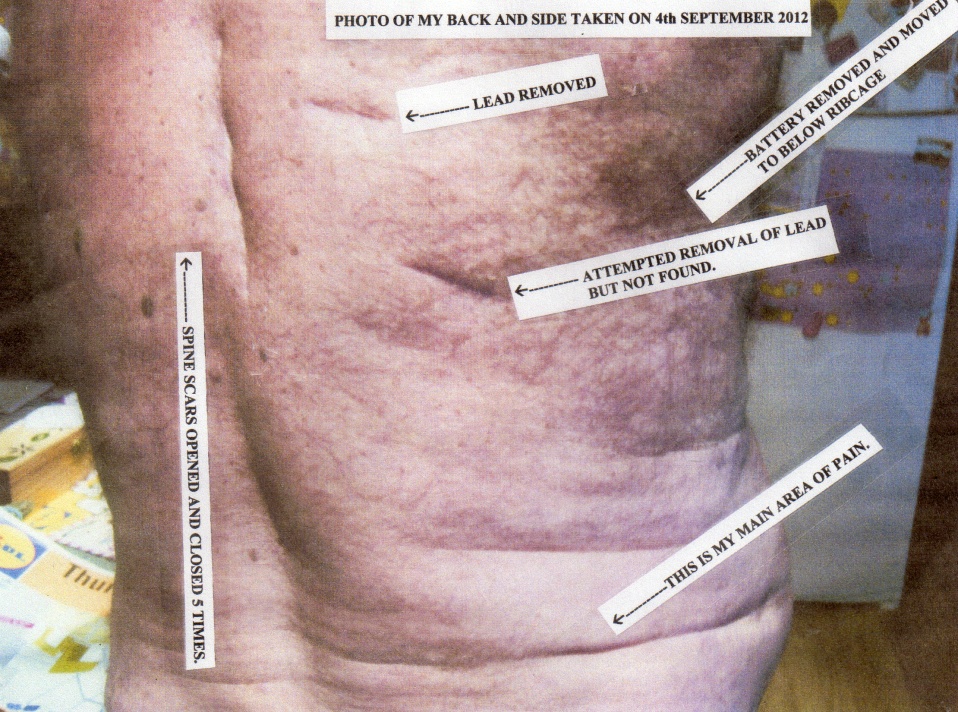 (emailed; The Sun Newspaper on 5th Nov 2012 and on 17th Nov 2012… no reply yet)
(emailed; Dr Daniel Poulter MP on 17th Nov 2012…)
(emailed; Mr Ben Gummer MP on 17th Nov 2012…)
(emailed and Txt; James Whale LBC on 19th Nov 2012…)
(emailed; Mr Jeffrey Donaldson MP on 19th Nov 2012…)
(emailed; Mr Paul Dacre, Editor of The Daily Mail on 20th Nov 2012…)
(emailed; Mr Geordie Greig, Editor of The Mail on Sunday on 20th Nov 2012…)
Sir / Madam
I am a close friend of Rod who is a retired Royal Marine of the old school (Veteran of Borneo, Malaya and other Skirmishes you never heard of).
A case of negligence ongoing for around 4  or 5 years has been dropped by Rods solicitor/barrister due to the comments of a supposedly "A-List" Neuro Surgeon (Mr Eldridge, Liverpool) who has completely Overridden the statements and comments of another leading Neuro Surgeon (Dr Al Kaisey, London) who fully supported Rod and was willing to attend court along with other witnesses for a trial of negligence against the operating surgeon Mr Afshar and his PCT.
I and a number of Rods other close friends believe (after reading between the lines of Gobbledegook) of the final report that there is a conflict of interest between the "A-List" surgeon and the "operating surgeon" and the attitude of (well, we always do it this way). The supporting surgeon backing Rods Negligence claim is a renowned Neuro Surgeon and has vast experience in this particular operation and its primary procedures. The solicitor handling the case wanted another "witness" as bakup so Dr Al Kaisey recommended his "friend" Mr Eldridge. Mr Eldridge finally came back with a Damming report against Dr Al Kaisey for his "mis-information" with regards to this particular case. The lawyer/barrister supposedly working with Rods interest in mind just closed the case as soon as they had the report from Mr Eldridge in Liverpool.
The Mr Afshar the offending surgeon apparently left the NHS and set up practice in Harley Street, London. Mr Afshar has App` been found guilty of negligence etc in other cases in the past.
Rod has suffered tremendously and has a back like Clapham Junction due to the inadequacies of the NHS, who are guarding there tracks very carefully. Apart from suffering depression, anxiety and swallowing handfuls of pills every day just to keep the pain away and function daily. His lovely wife Rose has been a bedrock of support but not a day passes when she isn't in tears over this situation.
I have attached 1 picture of Rods back please contact him and see if you can help as he and we have no one else to turn to and try and get him justice. Rod has a file with all the paperwork in the right places and can show you a brief summary of the case so far. I have permission to pass his personal details on to you. Kindly contact him asap.
Rods personal details limited on this site;
Mr Rod Spinks
Cell#; 07979 022 094
Email; rodney.spinks1@ntlworld.com
We all appreciate any assistance you can give Rod and Rose in their time of need and to show the Negligence of the operating surgeon Mr Afshar and the PCT involved and the Coercion of a leading surgeon Damming a report of another surgeon (his close friend) which completely brought this claim to a shuddering halt. Mr Al Kaisey still stands by his report and statement of Negligence and a GP of long standing and finally another Surgeon are still willing to back Rods claim.
Kindly contact Rod directly as I am merely bringing this situation to your notice with Rods permission.
Yours sincerely
Mac (RM29918)
Help Support and Get Justice for Rod… Rally your MP "Click Here for More Info"
Mac comments…
Personally I think that Rods solicitors/Barrister should have followed up on a claim for "Improper Procedure" after their claim for "Negligence" failed. Then followed up on the claim for "Negligence". Instead of the "Sloping Shoulders & Beam me Up Scottie" attitude…

What do you think?
Mac (RM29918)