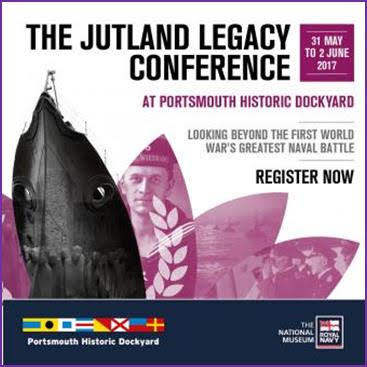 10:00 – 17:00
In 1916, the Battle of Jutland was fought over 36 hours from 31st May to 1st June.  Both sides claimed victory in what was considered the defining naval battle of the First World War.  Yet even today, the results and aftermath of the battle are still being debated.
Who really won the battle? Did the battle really determine the outcome of the war? What was the social impact of the battle on Britain and Germany? What is the cultural legacy of the battle?
These questions have since divided opinions on both sides.
Now, an Anglo-German Conference of leading historians and archaeologists explore the legacy and wider impact of the battle. 
What lessons were learned by Germany and Britain from the battle?  What was the response at home in Britain and Germany to the battle?  Was Jutland really the only defining naval battle of the war?  What clues can be revealed about the battle from maritime archaeology? 
These are the kinds of questions that will be explored at the NMRN's first ever three-day Conference at Portsmouth Historic Dockyard, which opens on Wednesday 31st May through Friday 2nd June, on the 101st anniversary of the battle. 
You can be a part of the debate and learn more about the legacy of Jutland, and why it still matters today.
Each day will be packed with interesting lectures and presentations by international speakers, including Andrew Gordon, Innes McCartney and Holger Herwig, examining subjects as diverse as the wrecks of Jutland, unrestricted submarine warfare, commemoration and theatrical responses. The event also includes a special screening of Die versunkene Flotte, a silent German feature film about the battle made in 1926, and drink receptions each evening.
Tickets are available up to the day of the conference but book early, because this will be popular.  Individual day tickets available.
Conference Ticket Prices:
EARLY BIRD

3 DAY TICKET

STANDARD PRICE

3 DAY TICKET

DAY TICKET

31ST MAY

DAY TICKET

1ST JUNE

DAY TICKET

2ND JUNE

STUDENT

3 DAY TICKET

UNTIL
30TH APRIL 2017
FROM
1ST MAY 2017
UNTIL
24TH MAY

£200

£225

£100

£100

£75

£180

Please see our full booking terms and conditions

The last possible date for refund if you cannot attend is Friday 12th May 2017