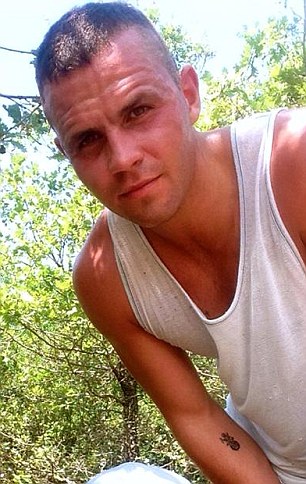 The family of former Royal Marine Konstandinos Erik Scurfield say they are 'devastated' that he has been killed while fighting against ISIS in Syria.
Konstandinos Erik Scurfield died while fighting against the terror group with the Kurdistan People's Protection Units (YPG) in the Al-Hasakah province of Syria on Monday.
The former member of Royal Marine's 45 Commando unit reportedly left the elite regiment just months ago and went to the Middle East after befriending fighters in the region on Facebook.
Mr Scurfield's mother, Vicci, said the family, who live in a detached former farmhouse in the South Yorkshire village of Royston, are 'reeling'.
In a statement issued through the Foreign Office, the family said: 'We are devastated to confirm the death of our son Konstandinos Erik Scurfield in Syria, where he went to support the forces opposing Islamic State.
'His flame might have burned briefly but it burned brightly with love, courage, conviction and honour and we are very proud of him.'
Mr Scurfield, the son of archaeologists Chris and Vicci, is understood to have told friends he was going to do humanitarian work in the war-torn country last year.
He reportedly attempted to cross the border near the town of Kobani in November last year, but was turned back because of authorities fears he was trying to join ISIS.
The former serviceman, who was an expert in battlefield medicine, is believed to have then crossed the border around three months ago and joined the group know as the Lions Of Rojava, whose number include many foreign fighters.
Comrades paid tribute to him on Facebook today, telling how he was quick to volunteer for every engagement and was always willing to stand guard.
Foxnwolf comment…
I do hope when the time comes he gets a great turnout on the day