Commando: On The Front Line
Has gone down in history as one of the most successful documentaries ever made about the Afghanistan war.Its enduring popularity hinges on the raw and startling footage shot by solo tough-guy director and cameraman Chris Terrill, as he joined a troop of teenage recruits for 32 weeks of grueling training in preparation for the front line.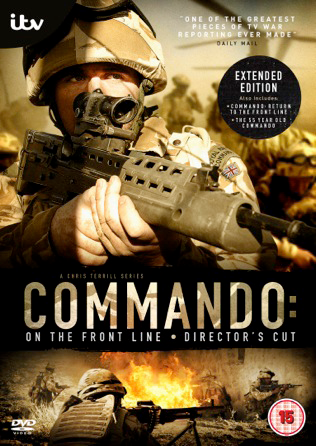 Now, nearly 10 years on, we re-release this iconic series on DVD as Commando: On The Front Line THE DIRECTOR'S CUT. Chris Terrill has recut all the films adding hours of extra footage never seen before on DVD.
In addition the DVD contains not only the extraordinary story of his own bid to win the famous green beret, The 55 Year Old Commando, but also his recent much acclaimed update film Commando: Return To The Front Line.
All these films tell compelling stories of how boys became men – hardened by battle in one of the planet's most dangerous wars. After enduring the toughest military training in the world these young marines were plunged into bloody combat where they witnessed death and suffered the grief for fallen comrades.These epic but very personal films will give you an unflinching impression of both the triumphs and tragedies of war.
Chris has arranged with ITV that as many copies as possible will be sold through the Royal Marines Shop, www.royalmarinesshop.com
And also the Navy News,www.navynews.co.uk
So that as much of any profits as possible goes to the RMCTF